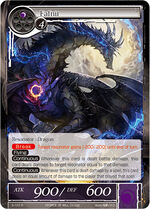 Resonators are cards you summon to help you in battle.
Details
They can be summoned by paying the appropriate Will required.
They can be used to attack the opponent Player.
They can be used to attack a Resonator or J-Ruler that is in the Rest state.
They can be used to block another Resonator or J-Ruler's attack.
During the turn whence they are summoned, they can not be used for attacking or using an ability that requires them to go into Rest state, unless the card has a certain Ability that says otherwise (e.g. [Swiftness]).
Categories
For a list of Resonators, see here.

​