Damage is a value of injury a Resonator, a J-Ruler, or a Player may suffer.
Rules
[
]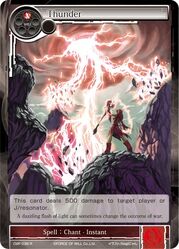 Damage can be caused either by battle resolution or card abilities. Usually, card abilities that caused direct damage are found in Fire

attribute cards.
Damage dealt to a Player causes him/her to lose life, and damage dealt to Resonator or J-Ruler will increase its damage count. If the damage count is equal or more than the said J/Resonator's DEF, it causes the J/Resonator to be destroyed by Lethal Damage.
When a card deals damage to a Player or a Card, if not specified, it deals it all at once. For example, there's a card that said "This card deals <A> damage to target Resonator for each <B> you control". This kind of effect caused you to "deal <A x B> damage" to that Resonator, and not "deal <A> damage for <B> times" to that Resonator.
If a card would deal a damage to a card without DEF, it doesn't deal any damage.
Damage will reset at each player's End Phase.